**NOTICE**
  You must vacate your room at the end of your reserved time and make the room available for the next reservation. There is a 10 minute grace period before scheduled reservations are forfeited and offered to others. If you cannot arrive within 10 minutes of your reservation, please use the cancellation link in your email receipt and book a later time or see library staff. Please see the
study room use policy
for additional information.
Study rooms can be checked out with a PVLD library card on the date needed with the library's online reservation system. You may access the reservation system from anywhere including the app or a catalog computer at Peninsula Center Library.

Study rooms close 15 minutes prior to closing
The Peninsula Center Library has 18 study rooms - 12 rooms (A-L) for up to 3 people and 6 rooms (M-R) for 3 to 8 people.
The study rooms are checked out on the hour in 1 or 2-hour blocks of time starting when the library opens. Only one study room session may be checked out at a time.
They're Popular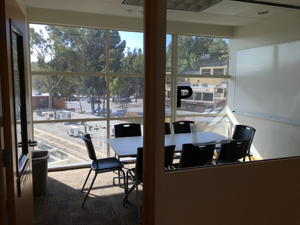 If you have already reserved a study room time slot, you must wait until your slot begins or cancel the slot before the software will allow you to reserve another. If rooms are available, you are welcome to reserve another time slot. Keep in mind that it's possible that all the rooms will be in use and a second session may not be available to you. If a second session is available, it may be in a different room than the first.
Alternatively, if all of the study rooms are reserved, there is a quiet individual study area on the 3rd floor of the library. 
Please remember that our study rooms are a privilege that many public libraries do not have. We try our best to accommodate as many patrons as we can every day. We want everyone to have a fair chance at using a room and these rules are in place to help ensure that!
FAQ
Q: Can I reserve a room over the telephone?
A: No. Reservations can only be made by visiting the online reservation system.
Q: Do the study room doors have locks?
A: No, study rooms are not locked; the library is not responsible for belongings left in the rooms.
Q: Are meeting rooms available for larger groups?
A: Yes, 8 meeting rooms and 2 outdoor spaces are available for larger groups that can be booked in advance. You can view additional information and reservation procedures on the meeting room page.