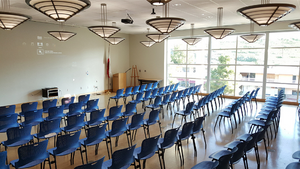 Meeting rooms at the Palos Verdes Library District are available to community groups, organizations, and individuals for meetings of a civic, cultural, charitable, intellectual, educational or personal nature. Seminars, trainings, trade shows and corporate or personal parties and receptions are all allowed.
Basic information about our rental rooms is listed below. PVLD strives to provide accessible spaces for all our patrons and residents and special consideration can be made on a case-by-case basis.
8 meeting rooms and 2 outdoor spaces, providing a variety of decors and sizes
Peninsula Center Library Community Room, seats 100, featuring 1,700 square feet of event space and 12-foot ceilings
Peninsula Center Library Purcell Meeting Room with a capacity of up to 40 chairs, depending upon set-up
Peninsula Center Library Conference Room, providing the ideal professional setting for meetings with a seating capacity of 21
Malaga Cove Library Community Room, with capacity for 50
Malaga Cove Library Gallery, with capacity for 70 chairs
Features
Complimentary Wifi in public areas
Audio/Visual equipment available for rent in most rooms
Instructions
Please allow 2 hours between meetings.

Each room has a 3-hour booking minimum (except the Malaga Cove Tower Room, Purcell Meeting Room, and the Peninsula Center Conference Room).

Rental rates are higher when a facility is closed. Purcell Meeting Room is not available when the facility is closed. Open facility hours are:

Peninsula Center Library: Mon. - Thurs.: 8:00 a.m. - 9 p.m., Fri.: 8:00 a.m. - 6 p.m., Sat: 10:00 a.m. - 5:00 p.m., Sun: 1:00 p.m. - 5:00 p.m.
Malaga Cove Library: Mon. - Thurs.: 10:00 a.m. - 6:00 p.m., Fri.: 2:00 p.m. - 6:00 p.m., Sat.: 10:00 a.m. - 5:00 p.m., Closed Sunday
Miraleste Library: Mon. - Thurs.: 10:00 a.m. - 6:00 p.m., Fri.: 2:00 p.m. - 6:00 p.m., Sat.: 10:00 a.m. - 5:00 p.m., Closed Sunday
For additional information regarding room rentals at any of our library locations, please contact the Administration Office at (310) 377-9584 Ext. 247.
---
---
Did you know?
13 smaller rooms are available free of charge at the Peninsula Center Library for same day reservations only. You can view additional information and reservation procedures on the study room page.